I had a piece on at The Miniaturists again. My second time. I feel like I've joined an elite club. The Minis has a special place in my heart since it was the very first new writing night I attended in London (back at the old Arcola). It was intimidating to realise just how much better the writing was in London, but now it's a joy to have my work being presented at that level.
The play I wrote is called "Confessional" and it satirises the world of the celebrity confessional interview. I'm really happy with the way it turned out (you can see the Twitter love here), and this post is basically charting how we go to the show.
Where did it come from?
I wrote the first draft back in the summer of this year, whilst on a writing retreat with the Crowther writing group. It came from a conversation I was having with my fellow writers around the artificiality of high-profile celebrity trials and interviews, and it made me think a lot about all the work that needs to go into this very specific type of "performance". I decided to focus on the celebrity apology that we've seen so often from politicians, sports stars and actors.
From the beginning, I felt the piece would need to be performed by a single person. The problem is that I usually don't like monologues. I've been burned a few times with some pretty bad ones, and when they're bad, they are painful. For writing this, I went back to a few choice monologues I really enjoyed. I read them over and over, trying to find out what it is that made them special, what made them tick.
Based on this research I made a very small list of elements that make up a German-approved monologue:
A good monologue is present tense. Things are happening NOW.
The character has done something that is compelling them to speak. They have a strong psychological reason that is making them talk to an audience.
A monologue doesn't mean a single character. Adding more characters gives the performer a good challenge, and is quite fun to watch.
It needs to be funny (this is MY personal list, after all).
Putting it together
Once I decided on the format and cast size (1), it came time to do the research. I looked at several high profile celebrity confessional interviews and tried to absorb the language and format. Which means I basically sat watching YouTube for ages. Princess Diana, Monica Lewinsky, Meg Ryan, Lance Armstrong, etc. I took notes on the type of questions they were asked, the stock answers they gave and especially the body language. From the beginning, I knew that for Confessional the interviewee's body language would be used to convey the artifice behind the whole charade.
I'm not exactly sure when I decided this, but it was also always clear that this was going to be written for a woman to perform. My character was going to be a high-profile person who had done something immoral, and now she was going on TV to say how sorry she was, in spite of not being contrite at all. And the same performer would be playing both the role of the interviewer and interviewee. Fun, huh?
Whilst away with the Crowther gang, I stitched together a very rough first draft. We read it to the group and even though A LOT of it didn't work or necessarily make sense, I felt I had found the heart and language of the piece. As usual with my first drafts, I still had plenty of thinking to do about who the characters were, what they wanted and what they were doing about it. I finished a second draft, and while it still wasn't where I wanted it to be, it was a lot closer.
When the Declan and Will from The Minis came calling, I was still thinking about what to do with the third draft. Once I was committed to the Nov 30 show, I finally had some pressure to deliver. It forced me to make decisions and commit to them. I decided the main character would be an actress, "Emily". And her crime, she had dared to have an affair with her married co-star. Not ground-breaking perhaps, but realistic. I also added a third character, the PR assistant Sally.
The fearless Chris Lawson agreed to direct (he helmed my short musical Bedspread over the summer). He cast the lovely Norma Butikofer as "Emily". Norma is American but her English accent is uncanny. We were set. We did a table read at my flat and I tweaked the script one last time (or so I thought). After that we had four rehearsals, all in the intimacy of my living room. Chris and Norma did a lot of detailed character work, I did more than a few rewrites along the way (sorry guys!), but things went mostly smoothly.
The day of reckoning
On Sunday 30 Nov, we went in to the Arcola Theatre to tech our piece. I have to say, the logistics of rehearsing and putting on a monologue are so much simpler than regular theatre pieces. We had zero props, no set, just a chair. And our lighting cues? Two: lights ON. Lights OFF. Boom. This was a relief.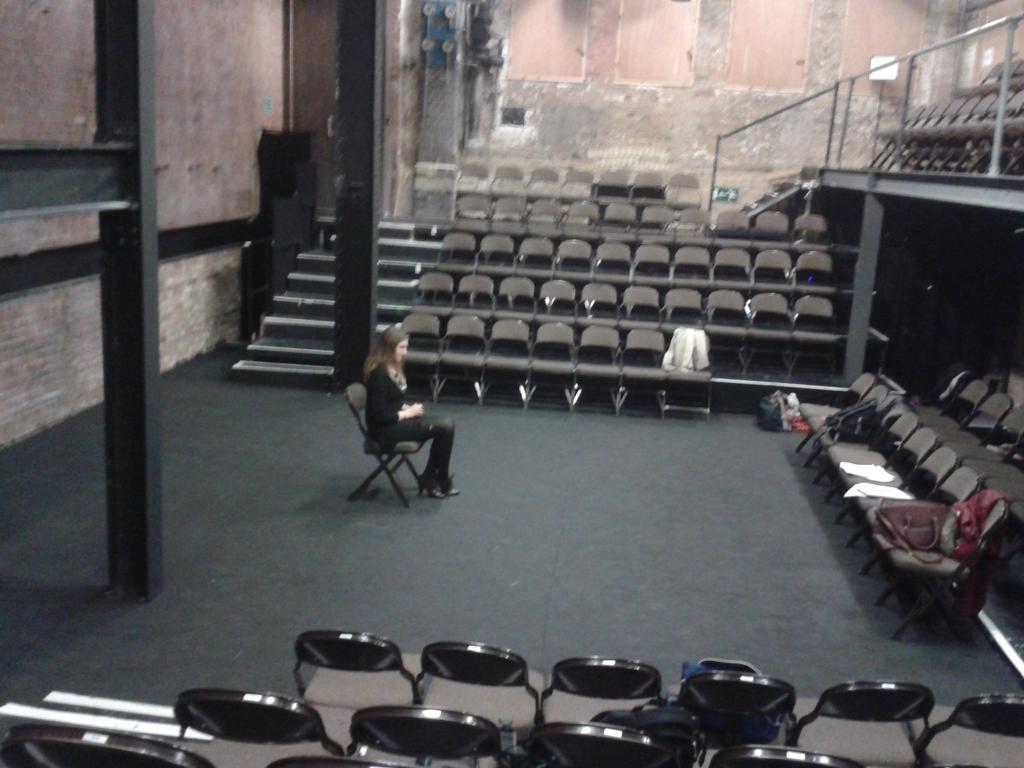 Then it was show time! I have to say I was a bit nervous before the first show. The thing about writing comedic material for live performance is, you don't really know if it will be funny. Ever. You get used to the material during the writing/re-writing/rehearsal process, and you become numb to it. You have to blindly trust your gut over what will be funny (or not). It's actually kind of terrifying.
When Norma first came on as "Emily", she entered the huge Studio 1 space like she owned it. I breathed a sigh of relief. The audience really liked it, they reacted strongly to everything "Emily" was doing. Norma held the attention of the entire auditorium, all with no set, props or any other actors. It was thrilling. The second performance was even better. And then it was all over. Such is the deal with short play nights…
I have to give a shout out to Will Bourdillon and Declan Feenan of The Miniaturists. They run a very tight ship, everything is always super organised and they basically give the writers free reign, which is a huge risk. And I love them all the more for it. Thanks guys! And of course, THANK YOU to the director Chris and to Norma, who pulled off a great show.